February 2018
BUDO BROTHERS
MARTIAL ARTS
LIFESTYLE
MAGAZINE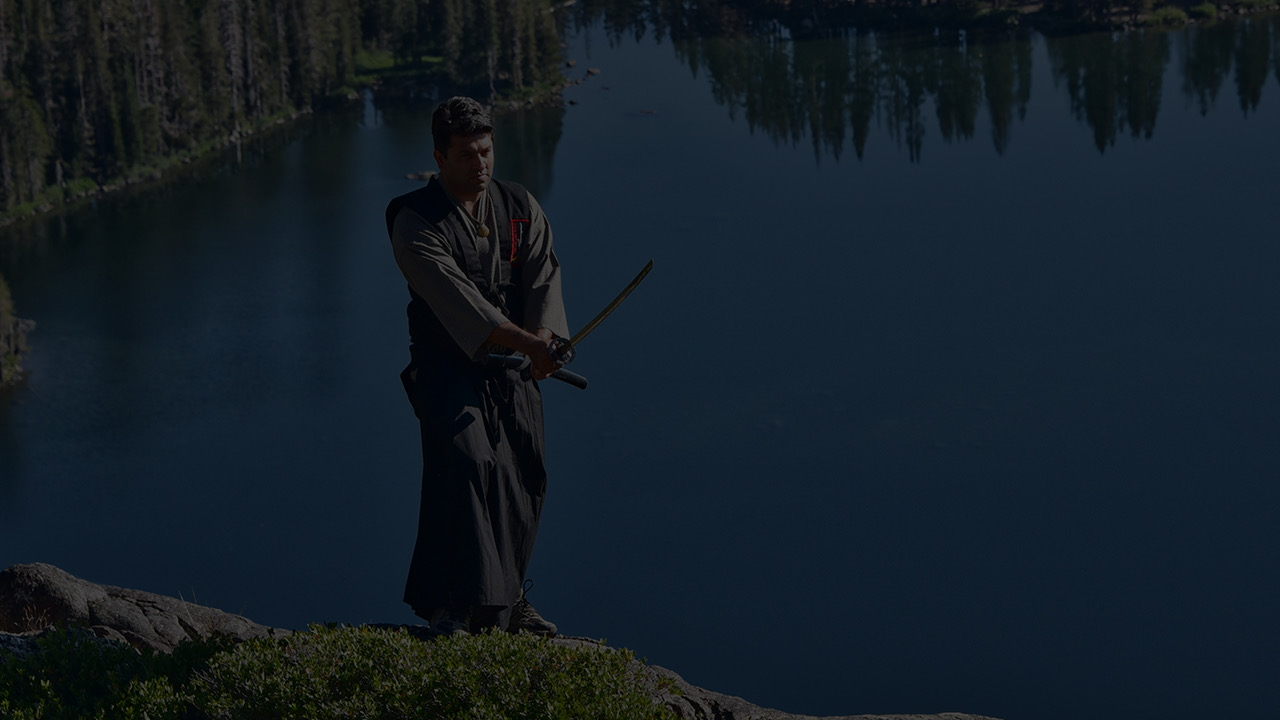 A 'Longer'
LETTER FROm
BUDO BROTHERS
Dear Fellow Martial Artists,
We have a lot of exciting things to talk about in this issue, so buckle up! :)
In case you are new to the eMag, it's all about sharing inspiring stories from dedicated martial artists, learning from each other, celebrating all styles/systems of martial arts, and growing together as a community.
In this month's issue, we are featuring a lifetime martial artist that we met through pure resonance. This gentleman stumbled onto our social pages and was thrilled to learn about what we we're doing to help youth get started on their martial arts journey through our non-profit entity, the Budo Youth Fund.
He too is incredibly passionate about giving back to the community and has donated over $120,000 to charity through his non-profit dojo. Mahipal Lunia Sensei is "a masterful student" who's studied various Japanese, Chinese and SE Asian Martial Arts from exemplary teachers from around the world, and is looking forward to working with Budo Brothers on an awesome initiative that we are excited to tell you all about:
We are pleased to announce that we are sponsoring Mahipal Lunia Sensei's exclusive event through Immersion Labs called "Legacy Of The Blade," taking place this April 27th-29th in San Jose, California. The Immersion Lab's team has managed to attract various masters from all over the world for three jammed packed days of one-of-a-kind instruction, all centring around the blade.
The instructors include ambassadors of the Indo Malay blades, the South African Piper System, the Mexican Street knife, the Filipino Espada y Daga, the Moro Sword and Sickle, the Japanese Tanto, the Haitian machete, the Italian knife and the German Sabre.
The event will be 8 different ambassadors, 25+ hours of intense training at a discounted price of $750 for the 3 days. For full details, check out The Immersion Labs.
We have managed to secure 5 spots exclusively for our eMagazine subscribers!
Both of us will be heading down to California in April to attend the event and we would love for you to join us!
Full Disclosure: We are not being compensated for promoting this event. Rather, Mahipal Lunia Sensei has graciously offered to donate 10% to The Budo Youth Fund from the 5 reserved spots that we fill, in addition to a personal match by him. The The Labs are limited to 40 experienced martial artists so better jump on this opportunity! You can fill out an application here:
Next up, we have the incredibly talented Beverly Pratka, Co-Owner of Texas Jeet Kune Do - Talk about a woman who's on a mission! We were fortunate enough to meet Beverly in person back in December and got to learn more about her ambitions. Beverly has trained everyone from women looking simply for self-defense, all the way to those in law enforcement. She is an active competitor who has done everything from traditional tournaments, BJJ and submission grappling, kickboxing, all the way to stick fights. Most recently she won the ISKA World Championship in Sport MMA. Today, she is focusing on her latest venture: Lady Cobra JKD, a Martial Art specifically designed for women. She plans to not only bring more women into the martial arts world, but also change the way women think about training.
Enjoy this month's issue and we hope to see you down in California in April :)
Oss!
- Budo Brothers
Featured budo brother
Mahipal Lunia Sensei
Pushing Boundaries, quietly: Mahipal Lunia
"As in dojo, so in life."
My martial arts journey began not unlike your own. As a skinny, asthmatic kid working his way through primary school in India, I was the victim of frequent beatdowns by the older, bigger kids. My father, a champion wrestler, offered two options: he would fight the battles for me or I could learn to fight for myself.
I chose the latter, to which he responded "wise choice."
As I was too small for the wrestling legacy of my father, I began with Shotokan Karate and my early years filled with traditional classes in sport karate and gungfu, competitions, demos and ego. By my late teens, I thought I had "mastered" what I had needed.
That is, until I met a master teacher from the United States who was visiting India to spend time with his family. Enter Sastri Sensei. On the eve of a cross-continental move to Australia, I stumbled upon his Aikijujitsu Dojo. Cocky (as always), I walked into his dojo and asked to "feel his art and what he can do."
He warned, "don't break any glass or bleed on my floor, otherwise you're going to clean it." After bowing, I launched a fast mawashigeri, only to find myself on my behind. Next, I played a high low combination and tried to get a solid side kick in only to become one with the wall. Clearly, I had failed miserably and soon I was petitioning admission into his dojo and forgoing my Australian plans. I stayed back in India, working out 3 hours a day, 6 days a week for 3 years. When Sensei moved back to America. I followed suit, after a lot of other travel.
Sastri Sensei remains my teacher/mentor/family to this day.
We finally reached the mutual destination of Phoenix, Arizona. I would (physically) stay but for a few years, but they served to reshape what the martial arts would forever mean to me: elongating and living a healthy wholesome life and constant never ending growth. It would never again be about the belt, rank, or system - it would be about becoming an individual, independent and pursuing principles beyond a set system. This served me well as I continued traveling and learning from amazing people the world over.
After a lot of travel, I eventually, I settled in the San Francisco Bay Area and after a few missteps (failed dojos in 2001 and 2003), founded my current dojo in 2006 in a public park in Mountain View.
It was (and is) nothing fancy: large patches of grass and a weather-worn wooden gazebo sheltering a cement foundation. Over the years it has been both a deterrent and an attraction: countless have dismissed it because of its lack of walls, heaters or a/c, or mats and my insistence that we train in the elements no matter the weather conditions. Others truly see its purpose: a neo-traditional training locale where environmental changes dictate technique.  One of our favorite limericks that everyone at the dojo lives by is:
In addition we also have a mandatory Saturday 7 am class regardless of the weather. As such the dojo has always had fewer than 10 students at a time, but every single one has been dedicated and committed to their path.
The dojo functions on a nine point philosophy:
Bring together the ways of both ancient and modern warriors
The dojo is the path to yourself
Our life and work are in the service of something greater than oneself
Follow your fascinations no matter where they lead you
Self expression trumps systemized techniques
Beauty and elegance as the GPS of the soul
Embrace gifts and curses with grace
Deep immersion is our chosen path towards mastery
Knowing is not enough, living the philosophy is what matters
As a not- for-profit dojo, there are no fees but monthly dues (even the Senseis' pitch in) donated to various causes around the world.  We have donated every penny earned to charity since the dojo's inception in 2006 through 2017, totaling well over $120,000.
People often ask what sets our school apart. This is hard question to answer but when pressed, my response is always the Shugyos (click here for video overview.)
The Shugyos are my nod to old-school training methodology and my love for nature, hiking and photography. Every quarter, the students and I take our dojo into the wilderness for a transformational experience both in technique and in the Self. We have done this without fail for over 36 quarters. Locations vary depending on the elemental focus (earth, air, water, fire) and not only challenge students to their edges but help them experience my tenant that your art should work everywhere, in all terrains and all situations. Only then it is part of you, and only then are the skills truly functional.
We have taken out training to the top of the Sierras, Yosemite, Death Valley, Channel Islands, Txcala, Shasta, Mexico, Reflection Canyon, Zion NP, Marble Falls, Sequioa NP, the Pinnacles, to name a few. You get the idea. If it is beautiful and remote, we want to head there.
Nothing makes me prouder than having students carry the Shugyo philosophy into their life and their own adventures. My students have taken the approach to such places as remote as Mount Everest, Patagonia, Andalusia and Antarctica. It has fused with them, marked them. And I stand but in awe and gratitude.
My OWN nature is to stretch and break borders, which is why in recent years my own training (for while I am a "Sensei," I remain a lifelong student) has extended to a serious study of South East Asian Arts, Chinese Internal Martial Arts and classic Americana (Bowie and Arkansas toothpick). I work long and hard, pursuing the best teachers and paths that will have me. For years, every Friday I have travelled 80 miles each way, in rush hour traffic to Stockton, CA (Ground Zero of FMA in the USA) to study with a reclusive Eskrima maestro. I frequently travel 800 miles (by car) each way to train with a one-of-a-kind maestro in the backwaters of Oregon. Yes, it is that important, and yes, they are that good and yes, it is that worth it.
This exposure to different maestros, the students and the philosophies has truly helped me understand a teaching I often pass down to my own students: "Would you rather spend a long time learning a thousand variations, or learn the principle, and be able to apply it in any situation?" In exploring various arts, and the common principle threads within them, I have become a stronger patron of my own arts as a whole.
Stretching Boundaries: The Martial Immersion Labs
One principle, many art forms, infinite situations.
Over the years I started to experience the coming together of systems. Seeing them as variations (due to environment and genetics) of the same principle. This lead to imagining a freestyle lab where there variations could be celebrated, in the spirit of the relentless pursuit of self and martial mastery. This lab environment would be a place for advanced players to come together to:
Explore Fearlessly
Conceptualize Ruthlessly &
Integrate Conscientiously
On one of my regular calls with a close friend and Martial Arts brother, Chris Nalley, I tossed the idea of brining together various teachers in service of one principle.
Now remember, Nalley is a high ranking Kajukenbo and Doce Pares professor. He got super excited and a collaboration on the first Lab began in 2017.
We called this experiment The Immersion Labs (TM), and we used a set of questions to guide its creation for the "masterful student:"
What if we gathered seasoned ambassadors of various traditions, from all over the world, of all stylistic backgrounds, for one weekend of focus and collaboration?
What if we could bring in a dream team of the instructors, regardless of system, to teach their version/vision of ONE core subject?
What if we created a worldwide community of martial peers in service of whole-person growth?
What if there are no distractions, no egos, no hard selling?
What if a percentage proceeds are donated to our forgotten community of warriors: charities supporting US Veterans.
The questions led to the conceptualization of 14 never-to-be-repeated, once in a lifetime learning experiences. The goal here is innovative learning experiences that change what we can see and how we interact with our own arts. Idealistic -Yes. Transformative - Possibly. Easy- No. But this is the journey.
This April 27th-29th, we launch the premiere session, "The Legacy of the Blade," as taught by eight exemplary ambassadors covering Indo Malay blades, the South African Piper System, the Mexican Street knife, the Filipino Espada y Daga, the Visayan Sword and Sickle, the Japanese Tanto, the Polynesian Knife of skin system, and three traditions of Italian knife.
The Labs are limited to 40 experienced martial artists ready to work at the edges of their craft in 3 hour blocks per instructor. As with all journeys, we remain open to the final destination of this inaugural event, but we look forward to having your with us on the path. I firmly believe that my decades of love and respect of the martial arts, and the people who I have met along the way, have led to this culmination of what I feel will be one of the richest experiences in my evolution as a martial artist.
For more information www.TheImmersionLabs.com or join the Immersion Labs Facebook Group.
[The Immersion Labs is collaborating with Budo Brothers to choose 5 participants from its network. 10% of related proceeds will go directly to fund the Budo Brothers Youth Fund. This is your once in a lifetime chance to learn great skills from exemplary ambassadors, meet talented Budoka, and make a difference in the life of youth.]
For more information on Mahipal Lunia, check out:
Featured Budo Sister
Beverly Pratka
Discovering Passion: Beverly Pratka
I'd like to share with you a story of a girl who started martial arts at a very young age. She grew up knowing that it was her calling and she never doubted that she would one day make it her career. Unfortunately that story is not mine. If I could travel back in time and tell my younger self that in the future I would become a professional martial artist, she would think I was completely insane.
Growing up I was a tomboy. I would rather play outside in the mud than inside with Barbies, but I never felt like I could truly be myself because I felt like I was supposed to want to be a princess and play tea party. So instead of finding something that I loved, I grew up going to ballet classes and doing things that little girls are "supposed to do". I never even knew that martial arts was a possibility for me.
Not long after I turned eighteen I met my future husband, Clay Pratka, and he brought me to see his gym that he had just opened, Texas Jeet Kune Do. This was the very first time I had ever even stepped foot in a martial arts school and I was excited about the thought of trying something new. However, I was also pretty nervous seeing as I had never even taken a self-defense class before so I decided to just sit and watch the last few minutes of a class to see what I was getting myself into. It was a Jeet Kune Do class. I watched as the boys all put on gloves and headgear and start punching and kicking each other in the face. Then my husband erupted into a series of lighting fast short punches (a straight blast) that sent his partner flying through the air, across the room, where his head went through the drywall. I decided instantly that this wasn't for me. Because even though I had grown up a tomboy, I had also grown up with almost zero violence in my life.
I was the oldest child, so I never had any older siblings to beat up on me or teach me about fighting in any way. So you could say seeing it to this extreme for the first time caught me a little off guard. Little did I know, at that moment a seed was planted. The next class came onto the matts, it was a Brazilian Jiu-Jitsu class. As I watched the class get on the ground and playfully roll around I thought, "Okay, I'll try this first". But after a few weeks I was bored and I started to think about the first class I had watched.
The concept of Jeet Kune Do intrigued me so I decided to try a class. This one was nothing like the class I had witnessed before (which I later realized was an advanced class on sparring day) and I soon realized the beautiful complexity of it all. They were doing EVERYTHING. We moved seamlessly from kickboxing to the ground then back up to a mass attack scenario and then fighting with weapons. I was in love. It's hard for me to explain why but it just clicked and I felt as if I had finally found the thing that had been missing from my life. This is what I was meant to do and who I was meant to be.
Over the next 10 years I experienced things that I never could've imagined in my wildest dreams of, what I lovingly call, my past life. I trained with some of the most elite martial artists on the planet, including one of the most important people in my life my teacher and mentor, Sifu Singh. I have been lucky enough to assist him with seminars and demonstrations all over the country, travelled to China for training, was featured in several DVD shoots and competed at (and won) a World Championship at Disney World.
On top of it all, I have been blessed with the most miraculous relationship with the man who started this chain of events and introduced me to this world, my amazing husband.
Through training I've experienced not only personal growth as an individual martial artist but we've also seen growth as a couple. And I realized that a hug is not always a hug… most of the time it's a choke. (Just a heads up for all you new or aspiring martial arts couples out there!) And if I hadn't decided to brave that day and try, I would've never experienced all those remarkable things. It's that thought that has driven me to make a change in the martial arts community. I thought, who knows how many women and young girls are out there just like me and have no idea that marital arts is not only a possibility for them but could change their lives.
So the question I started to ask myself is why is martial arts and fighting in general more common or acceptable for men as opposed to women? Most people would say that it's more in a man's nature to be more aggressive than a woman. But in all reality it should be just as natural for women to be aggressive as it is for a man.
If you ask any hunter or anyone who knows anything about animals they will tell you the thing you should be the most cautious around is a mother protecting her young. There is nothing scarier than a momma bear or a lioness protecting her cub. All women are all born with that God given animal instinct inside of us but it's been drilled out of so many because we are made to feel like we should want to be princesses and damsels in distress and being told "Don't do that! It's not lady like!" I think if we went back to the time of the cave people the women would be just as ferocious as the men. The cavemen might been bigger and stronger but the cavewomen were just as fierce, especially when protecting their children. And then there's my personal favorite, the shield maidens, who fought right alongside the Viking men in battle. I realized how empowering it is to hear these stories and think about how strong we can truly be.
Furthermore, I realized how empowering it was take things into my own hands and to learn martial arts. Because to be completely honest I think that what most people consider to be empowerment is complete crap. Women are fighting so hard for respect and equality and they are searching everywhere for some kind of empowerment. They work as hard as they can so they can get paid more and have the nicest house and the fanciest car to make themselves feel superior and they complain about being wronged. But that job, nice house and fancy car means absolutely nothing when you're on your back being beaten to death, or raped, or your children are being dragged away from you. And you're never going to truly be respected unless you do something to earn it. Real empowerment doesn't come from playing the victim, it comes from becoming stronger and more confident and what better way to do that than learning how to protect yourself through martial arts. I felt it was time for women to learn to be their own hero instead of just complaining about being mistreated.
So then I wondered, why aren't more women training? And even deeper, what are the problems that women who have decided to train are having? I found the biggest problem is that women are being told and taught to fight like men in programs and arts and systems that were created for men by men. Think about a 6'5 250lb man teaching a tiny 5'4 100lb woman combat tactics and strategies. It would be like a bear trying to teach a crane how to fight. It just wouldn't work. The man is never going to truly understand how the woman has to handle an attack because he has never and will never experience it himself. Now I'm not trying to bash men who want to teach women, there is absolutely nothing wrong with that and I applaud them for it, however for women to truly reach their potential they need to understand how their bodies were designed to fight by learning something that is combat tested and specifically designed for them by women.
After sharing my thoughts with other women, I found their response was, "Well what are we supposed to do? There's nothing like that out there." And while it is definitely more rare, it is most certainly out there. One of the most famous people in the world to this day is the legendary martial artist and film star, Bruce Lee. One of the main arts that Bruce trained in was Wing Chun and Wing Chun was, believe it or not, developed by a Shaolin Buddhist nun named Ng Mui. After fleeing the Siu Lam temple she met a young girl by the name of Yim Wing Chun who was being forced into marriage by a warlord. Ng Mui developed an art specifically designed for the small girl to beat the large man. She then named the art after her student. That's about as significant of a role in martial arts as you can get! No Ng Mui, no Wing Chun, no Bruce Lee. Another famous martial artist, Floro Villabrille, was one of the most feared Kali masters of all time and had over 120 death matches. He was taught not only by a woman, but a blind princess. It is said that when Floro learned from Princess Josephine he was so amazed by her skill and had so much respect for her that even in a time when women were not equal, he was proud to call her his teacher. I found after hearing these immensely inspiring stories that there are some people who deem them incorrect and claim that they are just myths. And my response to them is "Who cares?!?" I believe with my whole heart that these stories are true but even if they weren't, if it can inspire women all over the world what is it hurting besides your ego?
The other problem I found was the overly girly self-defense programs. I saw women strap on their pink gloves and their pink belts and prance around thinking they were cute. I watched people taking something as serious as learning how to protect yourself or your family and turning it into a novelty. I honestly didn't know whether I was watching martial arts or a Zumba class. I watched as guys snickered in the corner at how ridiculous it all was and I was embarrassed. I was embarrassed for these women and I was embarrassed that I was being lumped in to the same category as this crap.
I realized that what women needed is a balance. To not be made to feel like they have to fight like a man but still to be taken seriously as strong independent women. It's about being aware of our strengths and our weaknesses and finding what works best for us. Because at the end of the day it's not about being better or worse than men. We should be trying to surpass that kind of thinking and transcend gender. One of the most incredible complements that I've ever heard my teacher give was "Wow, when you watch her you don't see a man or a woman, you just see a martial artist, an athlete."
All these realizations ultimately led to the creation of Lady Cobra JKD. Under the guidance of my teacher Sifu Singh, we have developed the first ever martial art specifically designed for women. It combines the best and most efficient parts of Wing Chun and Kali as well as Savate, a French boot fighting art and Brazilian Jiu Jitsu on the ground with a heavy insertion of Kinamotay, the art of uninterrupted biting and gouging. Lady Cobra is not only an art it's a sisterhood, a community where women can come together in a safe environment and train to bring out their inner lioness. An art that is strong enough for a man and made by a women. And for all the female masters, black belts and instructors, it is a program that you can implement into your own schools and arts. Join us in this revolution of women's martial arts and become a part of our mission to change the game forever.
For more info on Beverly Pratka and the initiatives shes working on, check out:
Skills of the month
Beverly Pratka
Skill #1 - eye jab to Groin Kick
Skill #2 - Utilizing a bite to escape the clinch
Skill #3 - Escaping from the ground
Skill #4 - A new use for high heels
THANK YOU FOR SUBSCRIBING!
As always, if you have any feedback, suggestions for new topics, or requests for new products, please don't hesitate to reach out!